2

What is R?

At this point in the book, you should have installed R and RStudio on your computer, but you may be thinking to yourself, "I don't even know what R is." Well, in this chapter you'll find out. I'll start with an overview of the R language, and then briefly touch on its capabilities and uses. You'll also see a complete R program and some complete documents generated by R programs. In this book you'll learn how to create similar programs and documents, and by the end of the book you'll be able to write your own R programs and present your results in the form of an issue brief written for general audiences who may or may not have public health expertise. But, before we discuss R let's discuss something even more basic – data. Here's a question for you: What is data?
2.1

What is data?

Data is information about objects (e.g., people, places, schools) and observable phenomenon (e.g., weather, temperatures, and disease symptoms) that is recorded and stored somehow as a collection of symbols, numbers, and letters. So, data is just information that has been "written" down.

Here we have a table, which is a common way of organizing data. In R, we will typically refer to these tables as data frames.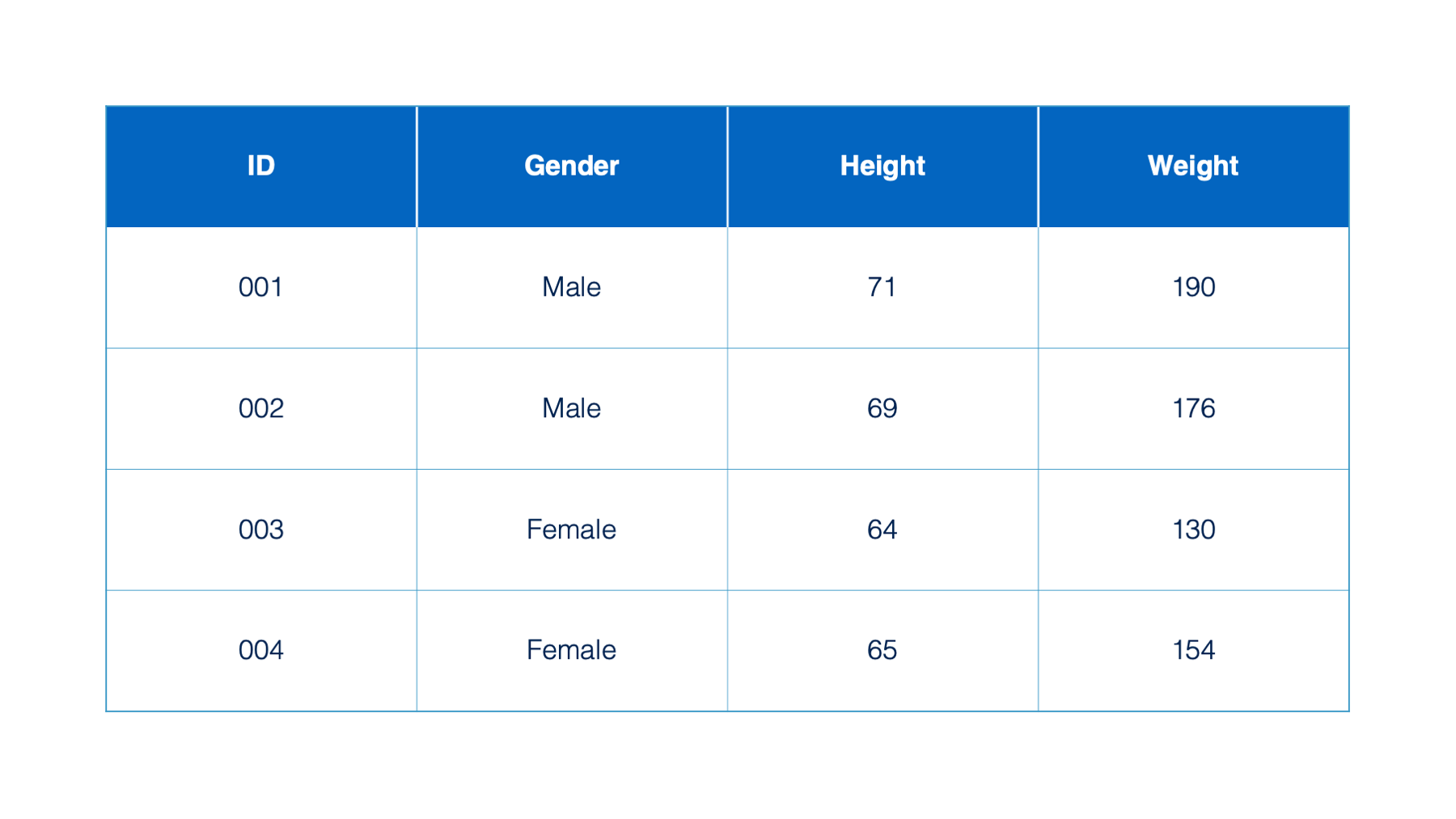 Each box in a data frame is called a cell.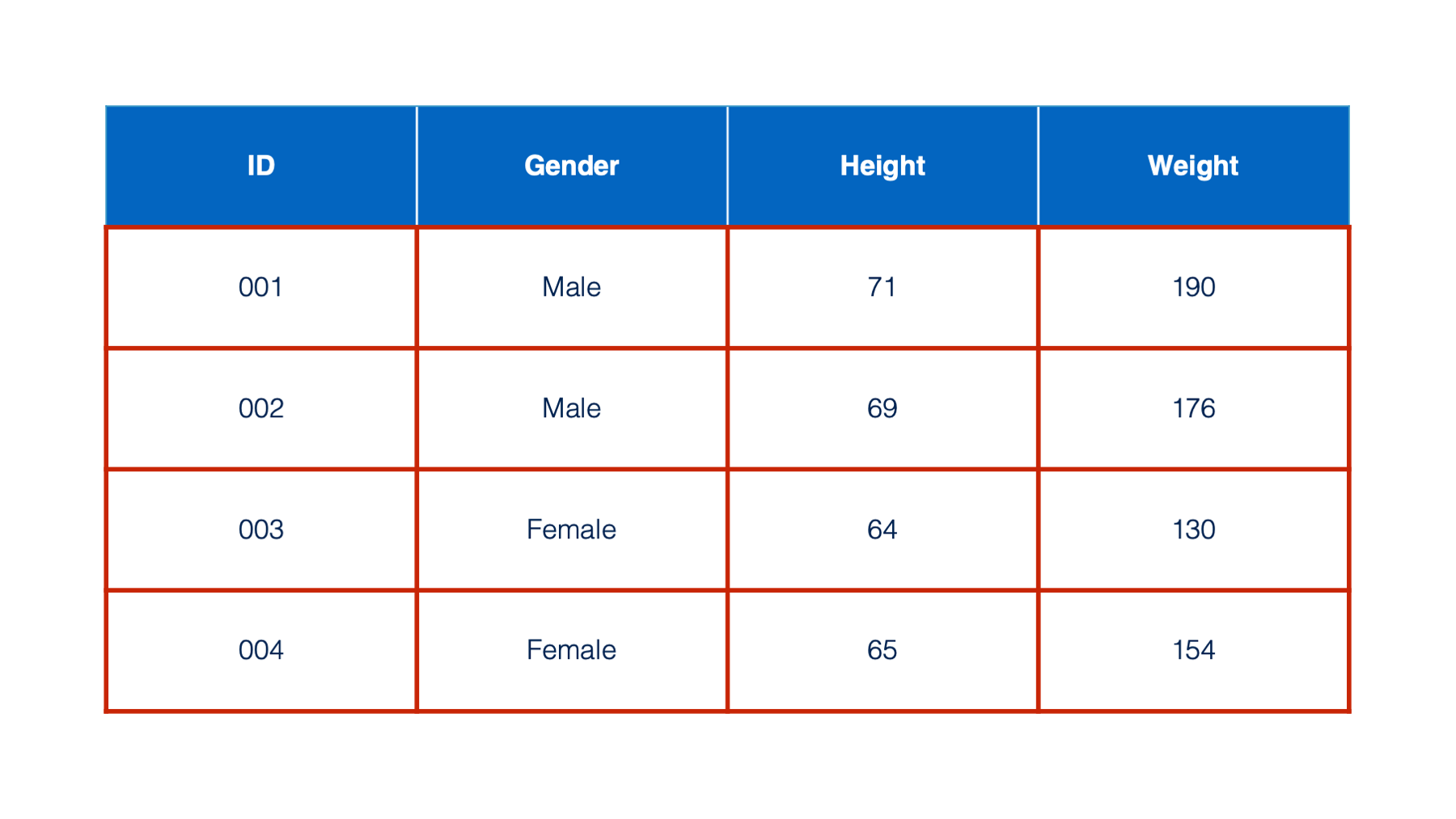 Moving from left to right across the data frame are columns. Columns are also sometimes referred to as variables. In this book, we will often use the terms columns and variables interchangeably. Each column in a data frame has one, and only one, type. For now, know that the type tells us what kind of data is contained in a column and what we can do with that data. You may have already noticed that 3 of the columns in the table we've been looking at contain numbers and 1 of the columns contains words. These columns will have different types in R and we can do different things with them based on their type. For example, we could ask R to tell us what the average value of the numbers in the height column are, but it wouldn't make sense to ask R to tell us the average value of the words in the Gender column. We will talk more about many of the different column types exist in R later in this book.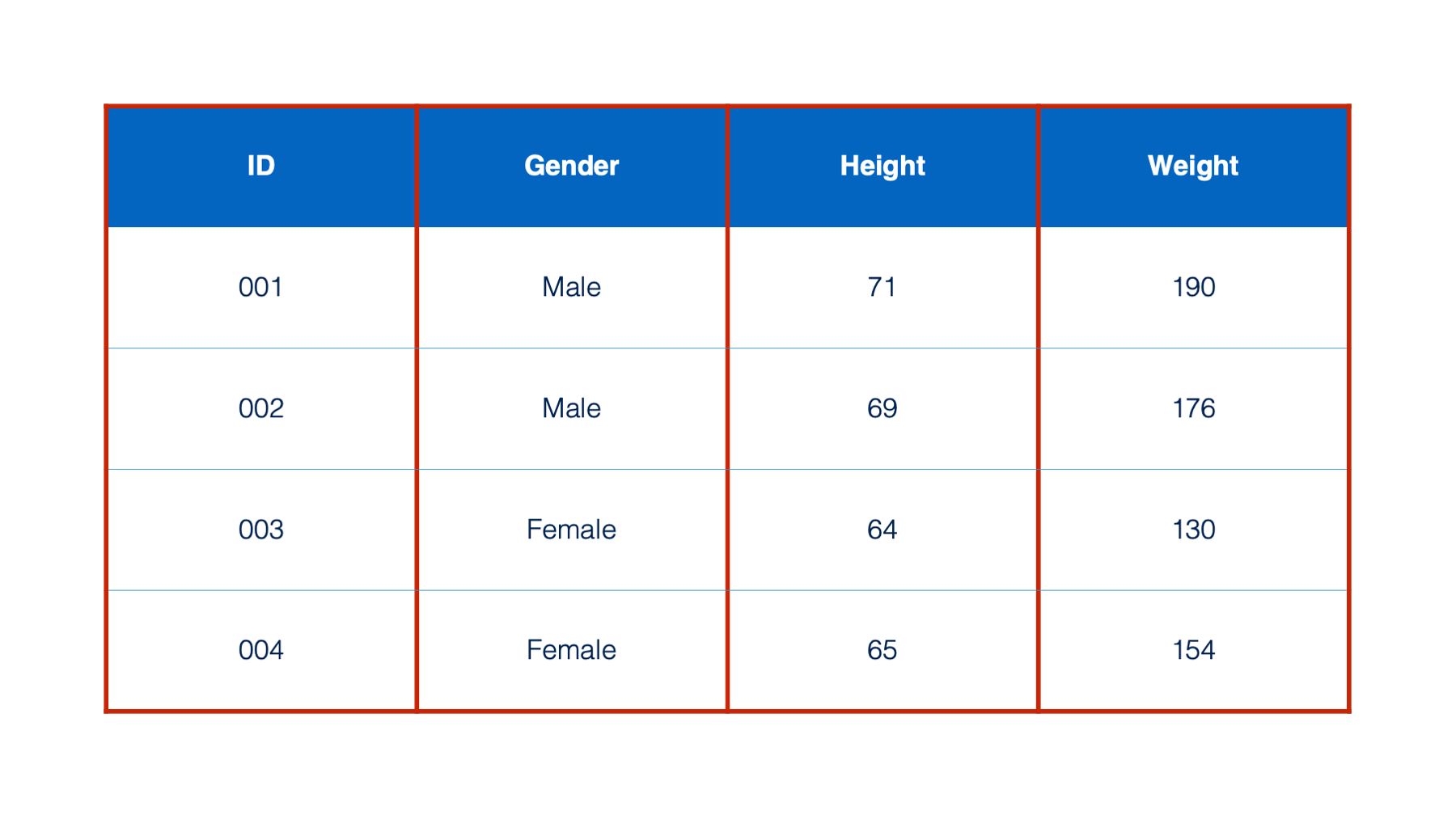 The information contained in the first cell of each column is called the column name (or variable) name.
R gives us a lot of flexibility in terms of what we can name our columns, but there are a few rules.
Column names can contain letters, numbers and the dot (.) or underscore (_) characters.

Additionally, they can begin with a letter or a dot – as long as the dot is not followed by a number. So, a name like ".2cats" is not allowed.

Finally, R has some reserved words that you are not allowed to use for column names. These include: "if", "else", "repeat", "while", "function", "for", "in", "next", and "break".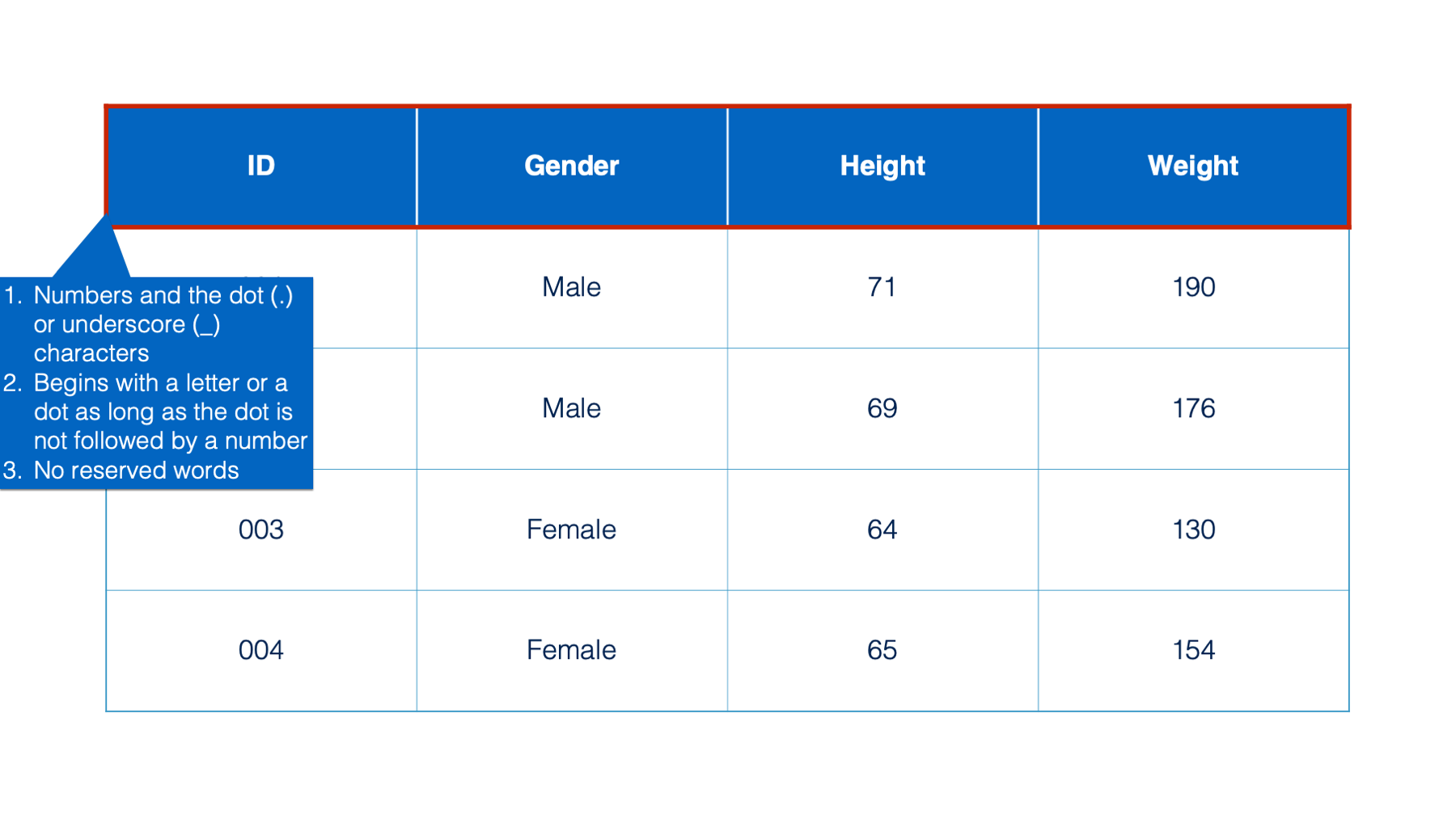 Moving from top to bottom across the table are rows, which are sometimes referred to as records.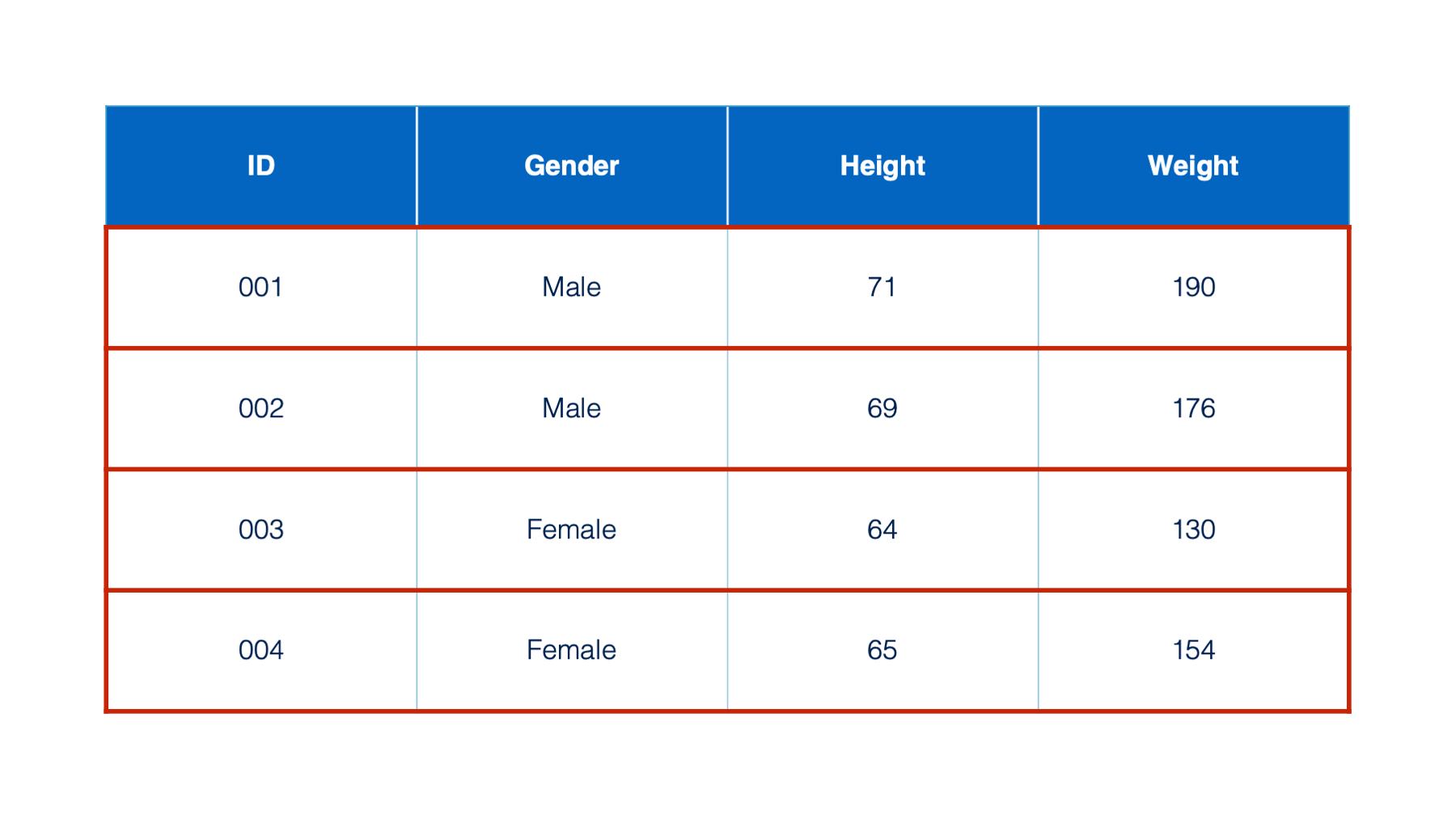 Finally, the contents of each cell are called values.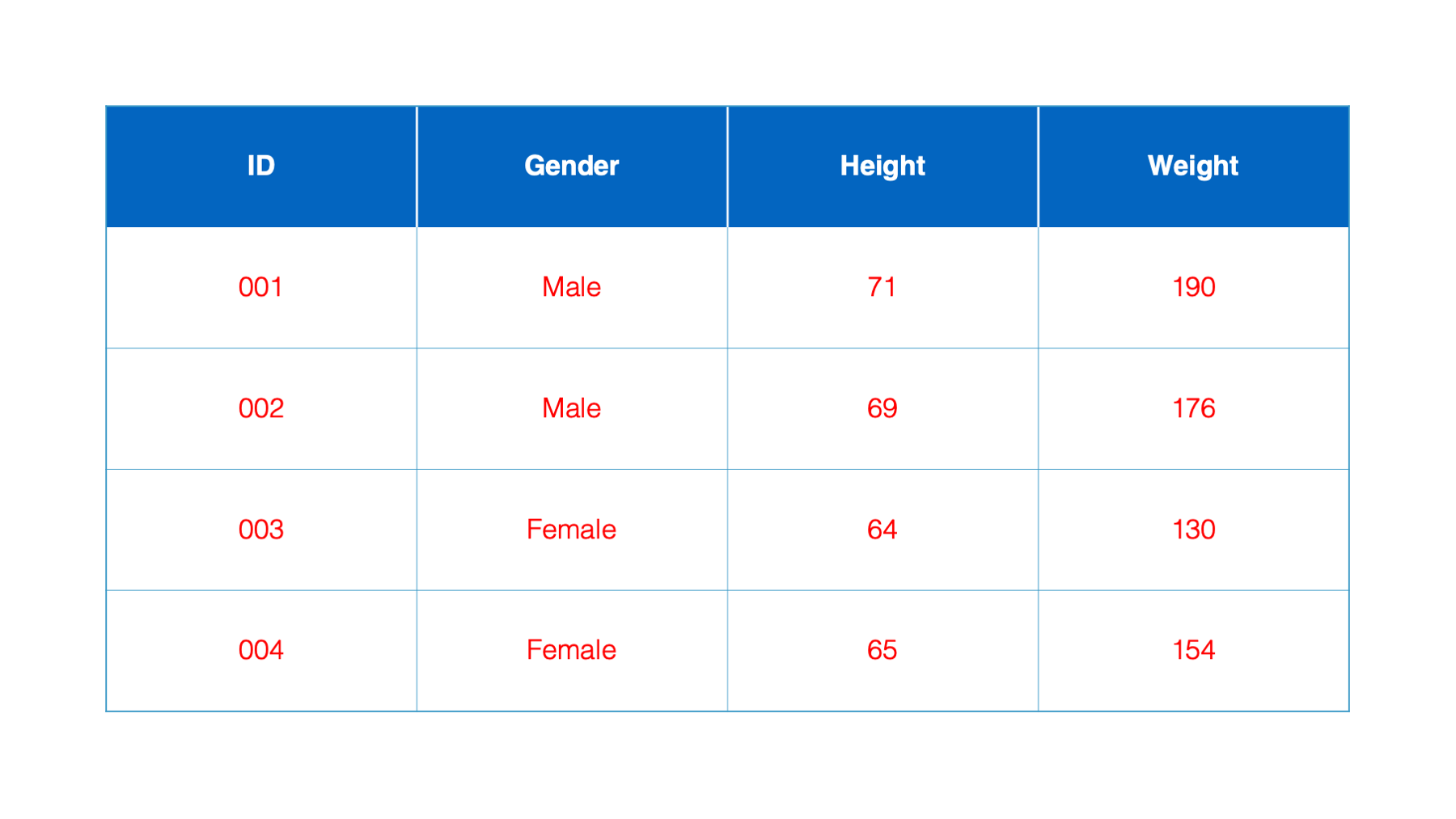 You should now be up to speed on some basic terminology used by R, as well as other analytic, database, and spreadsheet programs. These terms will be used repeatedly throughout the course.
2.2

What is R?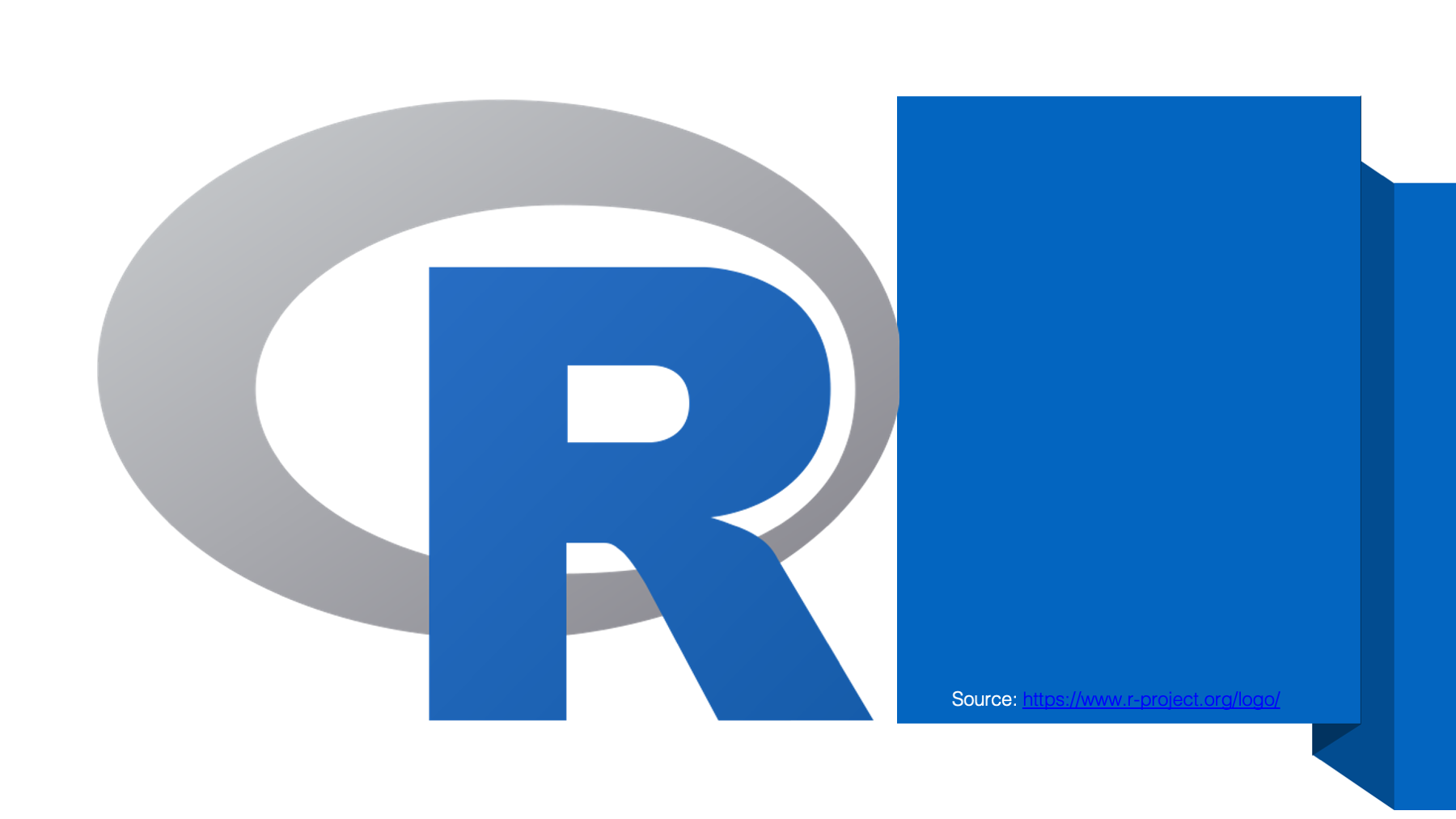 So, what is R? Well, R is an open source statistical programming language that was created in the 1990's specifically for data analysis. We will talk more about what open source means later, but for now, just think of R as an easy (relatively 😂) way to ask your computer to do math and statistics for you. More specifically, by the end of this book you will be able to independently use R to transfer data, manage data, analyze data, and present the results of your analysis. Let's quickly take a closer look at each of these.